Microsoft Dynamics CRM overview
Microsoft Dynamics CRM is a powerful tool for Customer Relationship Management. With its fluid, clear and suitable for all media web interface, you'll be able to very easily access all your customers information in a single window, and intuitively.
Comprehensive tool for managing the customer life cycle, Microsoft Dynamics CRM is divided into modules, making it one of the most powerful and simple CRM use.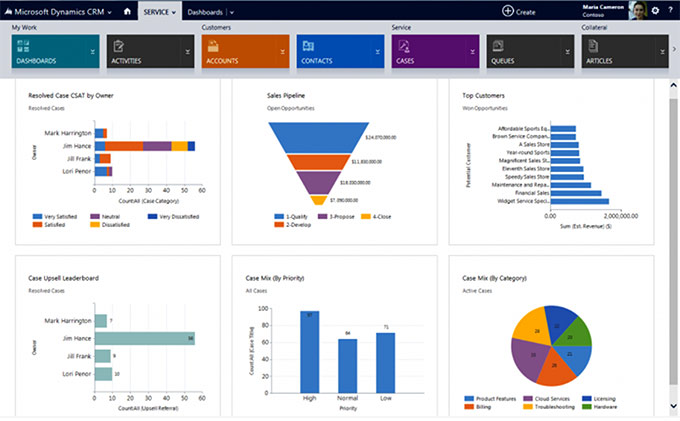 With the Sales module of Microsoft Dynamics CRM, it has never been easier to create Opportunities, Clients, Contacts or Contracts. This module also allows the management of commercial activity including the creation of Quotes, quick input of notes and document integration.
Microsoft CRM Marketing module allows to carry out marketing campaigns quickly and efficiently. With the Marketing module, your company employees can implement campaigns, precisely define the target customers or prospects, analyze the returns and send mass emails.
The built-in MS CRM Service Module will simplify the task for the management of customers demands, their queues, scheduling resources according to the services, the integration of documentation in a common knowledge base and the establishment of automatic reply emails, depending on the status of the request. The customers requests support becomes easier, faster and more efficient.
And because it is a tool from Microsoft, Microsoft Dynamics CRM is natively integrated with other Microsoft products you already use : Outlook, Office, SharePoint, ...
Infoclip Israel and Microsoft Dynamics CRM
With 25 years of experience in the IT business, Infoclip Israel knows your needs for Customer Relationship Management. And because, like you, we require the highest quality in the tools we use, we know that the CRM you need is Microsoft Dynamics CRM.
With our many years of experience around MS CRM, we have acquired a proven expertise in hosting, integration and customization of all versions of Microsoft Dynamics CRM. All our collaborators are Microsoft certified, which allows us to position ourselves at the highest level of partnership: Microsoft Gold Partner.
For any information concerning our Microsoft Dynamics CRM services, contact us.